In this interview, Jay Pappy had a quick chat with Arabella Star Magazine. Pappy gives us a sneak peek into his life.
Can you tell us about yourself and your upbringing?
I go by the name Mr John Kalu Chibuike, I'm from Abia State, Bende Local Government. I'm happily married with four children, two boys and two girls. My growing up was so challenging but to the glory of God, I am living well today. I grew up in the streets, and it wasn't easy, I had no proper shelter and slept in the jungle. But with determination, focus and consistency, God has kept me to be where I am today.
When did you start making music?
Music is something that has always been in me, I have developed the habit of singing right from when I was about nine years old. When I was twelve years old, I was in the drama department, but in 2018, I officially stood on my own and started my own record label called J N Dos Records, formerly I was with Mile skibby. Back then they called us studio rats because we spent most of our days and nights in the studio creating sounds and lyrics.
How would you describe your music/sound?
My sound and my music is something that my environment inspires, the things around me, my past, my present and the future motivate me. I don't just go to the studio to start singing, most times I get my inspiration around 2am, 3am when I think about life. I thank God for the wisdom and I am dropping more hits that will be an inspiration to the youths, because the youth are the future. My music is for the young, the old and middle aged.
What do you think about the state of afro beats in Nigeria?
Afro beat is now a global thing. Look at Burna boy, Whizkid, Femi Kuti, afro beat is a sound that you can play anywhere in the world. Afro beat has come to stay, it is a global sound and no longer a Nigerian sound.
Do you have upcoming projects?
I have a project coming up, it's called the unbroken, what I can do is far bigger and greater than what I cannot do. My upcoming project with the collaboration of my committee is will be announced by September by God's grace. It will be filled with much entertainment, music, dance, comedy.
What should the public expect from this project?
This project is to create awareness among the youths. It will sensitize them about the need to exercise their right to vote. We are expecting a lot of performance from top artists, DJs and producers.
Who are the top artists you want to collaborate with?
I will love to work with Davido, and J Cole as an international artist.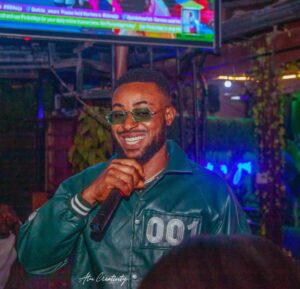 What have you learned in the music industry so far?
I have learnt to keep pushing, not to relent. Even when I face criticisms, it is for the purpose of learning and getting better. I have people who help me to criticize my music, and they help to improve on my work. I always try to learn from my errors and correct it.
Do you remember the first song you made and what was the reaction?
I remember the first song I did, I did it for my late father. I performed it on the day he was to be buried, it was a tribute song. After that I did another one which includes "humanitarian".
How do you feel when you are on stage?
I always feel energized on stage. Even if I am given three minutes to perform, I always make sure that I wow the audience in that three minutes.
There is a lot of uncertainties surrounding the 2023 presidential elections, there is the mandate that the youths want to take back their country, what is your advice to the Nigerian youth?
I want the Nigerian youth to simply be obedient.
What is next for JAY PAPPY?
I want the world at large to see my creativity and feel my impact, I want to live a life of legacy and influence. I want to live a life of a leader, that holds a profound conviction above my profession.